AQMIS Cloud™
AQMIS Benefits to Air Quality Projects
Overview
Air Quality Management Information System is a complete solution for your regulatory agency. AQMIS Cloud is a proven solution used by numerous governments and regulatory agencies.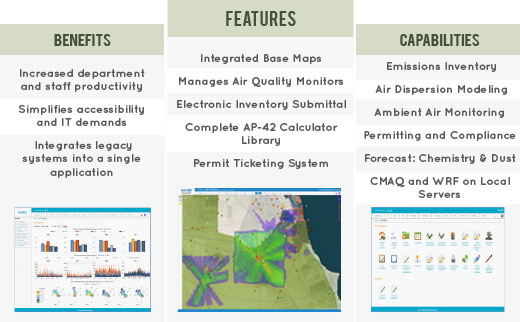 Benefits
AQMIS is a state-of-the-science air quality forecasting system. Here are AQMIS advantages:
1. WRF-Chem integrates the windfield and other weather variables with photochemistry. Other photochemistry models assume that weather from WRF is independent of photochemical reactions. Figure 1 below summarizes the WRF-CHEM benefits over CMAQ and CAMX.
2. A significant benefit is that WRF-Chem is the only photochemical model that can also forecast dust storms and forest fires.
3. Complete atmospheric Emissions Inventory that is easy to manage.
4. Run Dispersion models with a simple mouse click.
5. Public portal allows you to publish data and to receive permit applications.
6. Automated Emissions Calculations.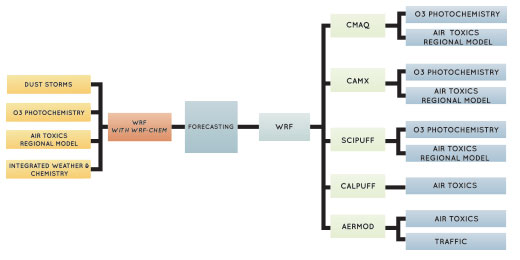 Riyadh Sand Storm Video - www.youtube.com/watch?v=vJXtjlnLGJs
Worst Sand Storm In Saudi Arabia Video - www.youtube.com/watch?v=BD7IedPZvt8
Road Modelling
Road modelling requires estimation of the mobile sources emissions and its subsequent dispersion. The USEPA already announced in 2015 the delisting of current models. These include CALINE4, CAL3QHC, CAL3QHCR.
Furthermore, EPA released the most advanced emissions estimation model now denoted MOVES2014. Due to these changes, the American National Academy of Sciences and the Transport Research Board, on behalf of the USEPA, is delivering TRAQS, open source graphical user interface to integrate MOVES2014 and AERMOD to effective eliminate the use of the deprecated models.